Notre Dame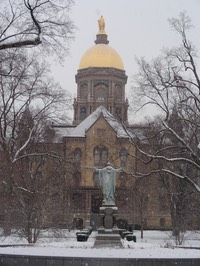 UC Berkeley
Stanford University
     We are interested in the special skills of all our students.  Ability in sports is rated as a "talent."  Schools measure the talent, character, and academics of each athletic applicant. Generally, in Division I, academics take on a much lesser importance. A 2.0 GPA is all that is required to remain eligible.  Division I players are expected to see a tutor for 10-20 hours  a week.  Student-athlete's schedules often include up to 30 hours of  practice and play time.  Travel time is in addition to that. Typically, Division I athletes are considering the sport they play as a possible career.  
  Annual awards for Division I athletes are around $48k.  Division II awards are around $8k.  Division III schools cannot make monetary awards. Division I and II student-atheletes are working for their education. Division III student-athletes are more students than athletes.
   There are many facts to consider when student-athletes begin looking at schools. Because the process is accelerated, athletes should start contacting colleges sophomore year.  Junior year is the time to hone the relationship, visit schools, and begin fielding offers.  Early senior year, the process is usually over with "Signing Day" in late January.
   Assessing athletic talent needs to be considered alongside a student/athlete's intended major and career goal.  If his/her interest is to become a professional athlete, he/she should consider a Division I school.  If he/she has a backup interest in architecture or engineering, that client will not be seeking a small, liberal arts college because those programs are not offered in small schools.  An athlete interested in economics or history might want to play Division II or III sports while also getting a small, liberal arts education.  
   Often clients start with a lot of conflicting desires, which leads to student stress.  Student/athletes are smart enough to see that, over time and with their talent, the offers they receive from school recruiters will determine their career/education path.
    Any student can register to be scouted as an athlete by going to this website and registering:http://web3.ncaa.org/ECWR2/NCAA_EMS/NCAA.jsp  Once you're registered, your information will then be shared with all schools interested in students who play that sport.
                       Contact us at: (626)825-4310.