George Washington University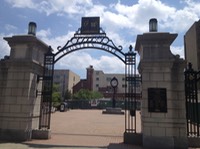 Think of your college application as a bit of a backstage construction for what you want your theater audience to see. The Admissions officers are your audience. When you submit, you are on stage.
Frightening? Not really because your audience is friendly and you know your part. You are presenting exactly who you are through grades, the classes you have taken, and your scores. Your fabulous essay is your stage monologue, which is creative, real, and a reflection of who you are. The only thing that could be a conundrum is your teacher recommendations.
With a bit of planning, these letters can be your "rave reviews." Colleges request that you ask for one each from a math or science teacher and an English or history teacher. Your applicant schools want to see that you are a responsible and respected student in your core subject areas. Now is when you must plan carefully. School is well underway, the workload is piling up, and many, many students are asking the same teachers for recommendations.
Teachers take your future very seriously. In fact, some teachers limit the number of recommendations they write because each one takes so long. If you don't ask within the first weeks of school, it might be too late. Ugh! Let's make the job easier for your teachers by asking politely, helping them out, and offering sincere thanks when the job is done.
By following these steps, you'll receive your best recommendation letters:
·      Write a "brag" sheet of activities and a resume of your classes and activities. Include with these documents a letter to each teacher that highlights your work in his/her class. If you have lead a group discussion, solved a difficult problem, stayed after class for help, or raised your grade after significant effort, include it in the letter. Make it easy for your teachers. Add a statement about how much you liked their class, or were inspired to learn more on your own. Be honest, but demonstrate your maturity as a future college student.
·      Put everything in a large folder. Give the package to your teachers after checking with your school counselor. Do you need to include a request form and a stamped and addressed envelope for each of your applicant schools? Or, will recommendations be done through Naviance.
·      Ask if you can also have a five-minute interview with your teachers. In that five minutes you can do any number of things: indicate your future major or dream job and your favorite school and why it is your own Perfect U. You can even ask where your teacher went to school and if he/she has any advice for you. 
·      Thank you! Once your application materials have been sent and you have "green check marks" from each of your applicant schools, send your teachers a thank you note. Their dedication means a lot to you.
·      Follow up. In April, when you receive your offers of admission, let your teachers know. They will remember you and be there for you when you come back to visit later, or even if you need to ask for another reference somewhere down the line.
Your help and good manners will set you apart from other students who are feeling panicky and demanding. Better yet, you will have gained the skills necessary to be successful in both college admissions and in life where good work is rewarded and where people help each other whenever they can.