Georgia Tech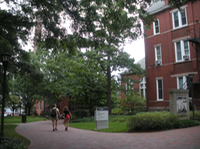 Emory University
Greetings from Atlanta, Georgia where a California student can find warmth, both in temperature and in spirit! For the excellent student looking for academic inspiration and chances for big merit scholarships, check out the South. For the student who wants a campus with a sports program so big that the fans drive in from neighboring states, come to the South. For the student who wants to focus on who they are in the world on a single sex campus, try the South.
After talking with students and faculty, these are my impressions of five outstanding campuses:
Georgia Institute of Technology: Georgia Tech, home of the yellow jackets, is a green spot in the city.  Everything is within walking distance and yet, the campus is quiet and secluded.  It's the best of both worlds. For science, technology, engineering, and architecture majors, it claims to be in the top five. Dr. Marilyn Wolf, from computer science, says she accepted an offer here after teaching at Princeton for 18 years because of the quality of the students and the freedom to do the kind of research she wanted.
         This big campus is only 10 minutes wide, said our student guide, Ross. He said that out-of-state students often get big scholarships and that they only pay in-state tuition when studying abroad. As a CS major, he managed to keep on schedule while studying for a term in Australia, New Zealand, and Fiji. He said that even though GT is big, he emailed a math prof before a big test, asking for a solution he couldn't get. The professor offered to meet with him on Sunday night. After a two-hour tutorial, Ross aced the Monday morning test. That's the kind of dedication we're all looking for!
       A steam whistle blows to signal the end of classes and on game day, the whole city wears yellow! 
Spelman College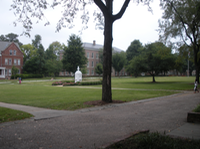 Spelman College:  Founded in 1881, this Historically Black College (HBC) is just a few miles from GT and is all women. The exquisite campus is completely gated. Only registered students, expected guests, or male students from neighboring Morehouse and Clark are welcomed by the security guard. The traditions are long, and the mission of the school is to train women for Service, Change, and Leadership. Women here become lawyers, doctors, and engineers (through the 3-2 program). They often give years of service back to their communities while working for Teach for America or after getting advanced degrees. The girls are all friendly, beautiful and poised and the president of the college lives right on campus. She makes it a point to know every girl by name.
    I especially loved the Honors Program which encourages girls to maintain a high GPA for the perks of Honors Housing.
   Spelman encourages these girls in the sciences. Two elite groups make sure of student success. "Wistem" stands for Women in Science Technology, Engineering and Math. "Gistem" stands for Global Science Technology, Engineering and Math.
   It was "Catfish Friday" the day I visited. The food tasted homemade and regional.  Dessert was tasty lemon cake. I noted a poster inviting students to "Hit the gym and avoid the freshman 15."
   The Alumnae Arch and fountain central to campus are traditions that lead back to just after the Civil War when the college was founded with just 6 earnest, sincere, and hard-working women. And giant trees gracefully hang over the quad.
Morehouse College
Morehouse College:  I arrived at Morehouse, an HBC for men, on a sunny Friday afternoon. Kids were getting ready for the big game that night or were in the library studying. One young man, Johnny from Texas, was a junior who planned to spend his spring term abroad in Germany.  As a double major in math and music, he felt that strength in both language and world affairs was going to help him succeed in education and the arts. He plans to become a math professor someday.
         Johnny said that Morehouse stresses strength, confidence, and the ability to confront adversity while also emphasizing community service, leadership, and spirit. Students who don't go on to graduate school are able to get jobs after graduating because the strong alumni network and internship program.
         The campus quad is made up of 19th century Southern architecture with large trees and lots of charm. The residence halls reflect students preference for quiet study or weekend partying.
Emory University: When I came to Emory, the campus was sparkling after a rain. I toured through gorgeous sandstone architecture, all the way to the library.  On the way, I stopped to talk to two girls who were freshman.  One was a physics major from Florida, the other an engineering major from Boston. Both had had many choices for schools, but chose Emory because of the location and because of the great diversity of majors.  Here, they said, students can specialize while still attending fairly small classes.
         Later, I joined students for a Chapel service and dinner following. One girl who was a double major in religious studies and dance had spent a semester in Rome where she became quite fluent in Italian. Another girl who was majoring in voice and history noted the importance of foreign languages in her major. She was looking forward to spending a term in Germany. Both had had one internship already and were looking forward to another.
Agnes Scott College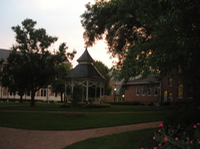 At Emory, every student I met was happy with their school, their major, and their future plans. The best of all educational goals is to go forward with great hope and optimism.
Agnes Scott College: I arrived at Agnes Scott at twilight. A gazebo and twinkling lights gave the campus a magical feel. Just 900 women attend Agnes Scott and because the campus is so small, faculty often dine with the students. Their doors are always open and the nurturing that these student get is greater than at any other campus in Atlanta.
         Historically, AS was a school for society women. Now it is a diverse campus which draws students from 46 states with more than 40 international students. Students learn from each other in their close-knit residential life where they foster a sisterhood through class alliances. This would be a perfect campus for women wanting to develop their full potential as high achieving adults and community leaders.
--Next week, Why to Attend Scottish Schools.  All the best from PerfectFitCollege.Net